This post may contain links to products that we use and love, and we may earn a commission at no cost to you.
A road paved with glass.
That's how I think of Glass Buttes now that we've been there.  The road sparkled in the sunlight and the glass crunched under our feet.  It was magical, in a way.
As we blossomed into rockhounds, collecting obsidian became an obvious prize.  We wanted to collect it ourselves, and in Oregon there's one legal spot to go: Glass Butte.  Glass Butte is on Bureau of Land Management (BLM) property.  The Forest Service has a short write-up on their website.
Getting to Glass Butte
We drove through Bend and as we approached milepost 77 on Hwy 20, this was our first view of Glass Buttes.  It's just as remote as it looks, about 13 miles from the nearest "town", Hampton, which has a great cafe and one gas pump.
We turned off the highway at milepost 77 and started up the gravel road.  We have a minivan and the road was really good at first.  It did degrade after a while, but we could still travel pretty easily, if carefully, in our van.
Obsidian Everywhere
We stopped a couple of times at well-used primitive campsites.  These are very often used by knappers (people who make arrowheads and knife points from obsidian).   At the first stop, piles of shards were everywhere we looked.  We didn't let the kids out here, especially our little ones.  Too much glass and it was very sharp.
But we picked up some lovely shards.  I immediately realized that obsidian comes in a lot more colors than black.
One of the primitive campsites…a juniper tree for shade and a homemade fire pit.
As we drove further up the road, we admired the scenery.  We saw lots of wildlife, but no snakes.  Mostly rabbits and ground squirrels.
We drove up to the turnoff that heads up to the butte-top where the red obsidian and rainbow can be found.  This road was not passable with our van, so we pulled into the campsite there to turn around.  Our plan was to head back down to the aurora borealis pit and start digging.  But disaster struck.
Disaster!
As we pulled into the campsite, our van temperature suddenly started rising.  My husband shut the van off, and as he did, smoke billowed from under the hood.  Uh oh.
Long story short, a piece broke off of our radiator.  My husband was able to jury-rig it and we made our way back toward the highway.  We were planning to camp anyway, and as it was getting late, we went ahead and made camp at the closest site to the highway.  The next morning, we got up early, broke camp without eating, and drove very slowly to the highway.
I did manage to make a few mean s'mores while we were there.
My husband took the kids up to the hilltop above our campsite for the sunset.
Found this in a pile of scrap near our camp site.  NOTE: this is not Native American.  It's a broken piece discarded by a knapper, and legal to claim.  It was a super cool find, especially for the kids since we didn't do much else except worry about our car.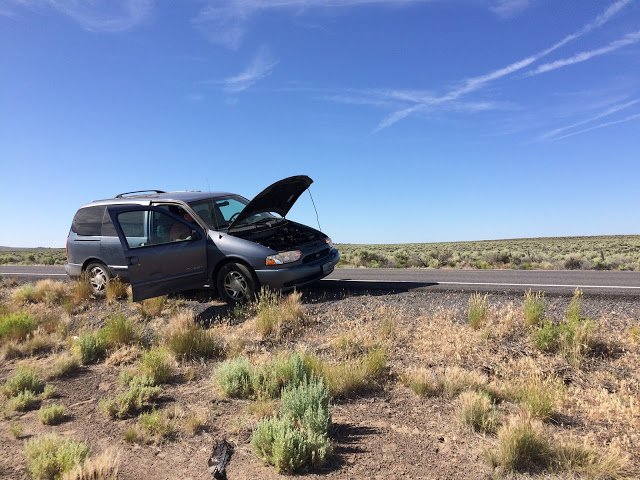 Made it to the highway, where we did this a few times.
Finally made it to Hampton, and to the cool sanctuary of the cafe, where we ate breakfast and waited for a tow truck.
This was the unfortunate end to our obsidian adventure.  Thank goodness for cell service and AAA!
Obsidian we Collected
Once we got home, I sorted and washed the shards and pieces we'd found around the campsite.  We did come away with some nice pieces, even if we never reached the dig sites and we never dug any ourselves.  I can only imagine what we'd have found if we could have made it to the dig sites!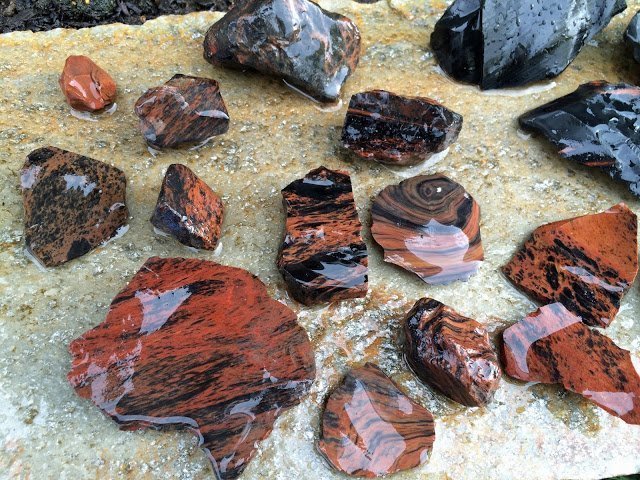 Let's Go!
If you go, and I hope that you do, here are the details you'll need to know.
Cost: free, 250 lb per person per year limit
Maps: We used the map in Gem Trails of Oregon and it was a great map.  There's also one that can be downloaded from Pebblepup.com.
Ages of our children:  11, 6, and 3, and 4 months
Other notes: we had great cell service the entire time (AT&T), there was a cell tower on the larger butte.  No bathrooms, not even pit toilets.  Take your own toilet paper!  Glass was everywhere and it was very sharp.  Everyone wore good shoes.  We packed jeans to wear.  Our 3 year old often had to stay in the van as it was just too dangerous in many locations.  Our 6 year old and 11 year old did fine.  There are no facilities whatsoever, so pack in everything you'll need, including water.