This post may contain links to products that we use and love, and we may earn a commission at no cost to you.
If you like rocks–even a tiny bit–then you have to hunt for thundereggs with your kids.  The best place in Oregon to find thundereggs is at Richardson's Rock Ranch near Madras, Oregon.  Getting there is easy and the prices for collecting and cutting are reasonable.
Thundereggs are Oregon's state rock.  They're orange-sized mud balls that, over time, filled with layers of agate.  Colors vary widely and they can sometimes contain crystals.  A few pictures online and we were hooked.  We had to go get some thundereggs for ourselves!
Travel to Madras through bucolic farmland.  Green grass, red barns, and black & white cows abound.  You'll want to stop for photos, and you absolutely should!  Also stop in Madras for bathroom breaks and to fill up on water and snacks.  The shop at Richardson's Ranch has a few things, but mostly they sell rocks.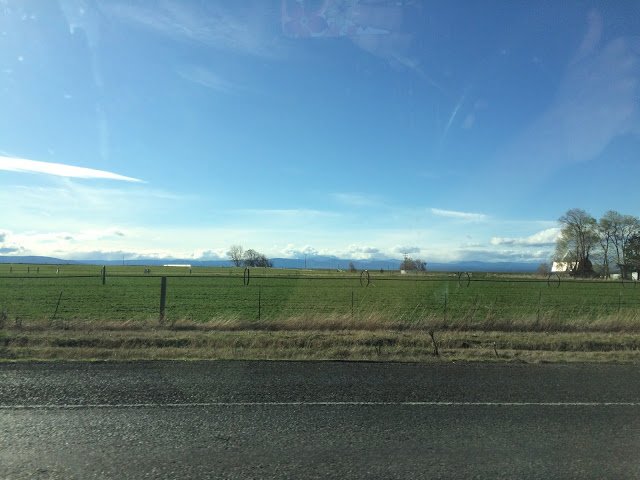 Richardson Rock Ranch
As we made the turn into the Ranch, the terrain changed into an arid moonscape.  We wondered what other treasures were under the rocky soil, besides thundereggs.  If you're going with kids, be sure to ask at the shop which pit has the easiest digging.  A friend went the same summer as we did, and ended up in a "pro" pit where the digging is much harder, but the chances of finding something really special are higher.   Different pits have different payouts, and different skill levels.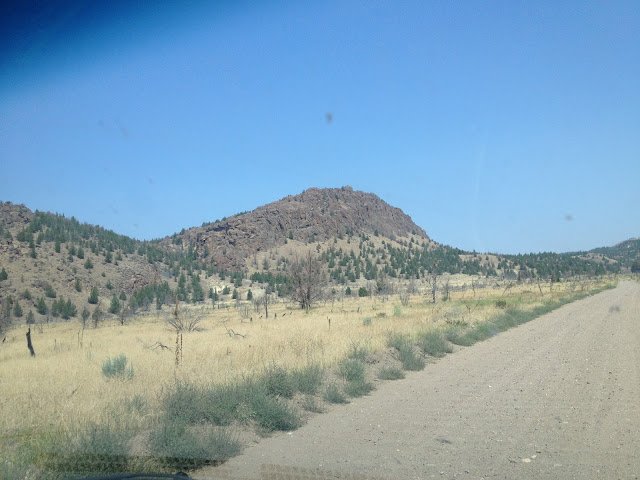 Digging Oregon Thundereggs
We were in a hurry to get to the digging grounds, so we stopped at the ranch store and got directions and buckets.  Then we headed out and wasted no time setting to work.  We didn't really know where to start, so we just followed the crowd and dug with everyone else.  We found a couple right away, but I was hoping for more fertile ground.
I took the rock hammer and wandered a bit, picking here and there.  The pits are large and somewhat meandering, and any place is fair game.  Around the corner, away from the crowd, we found our spot.  
Our rockhounds included our two older kids, plus my daughter's friend.  They had no trouble digging thundereggs out of the soft, sedimentary rock.
We traveled with two babies, one a little over a year (but not walking) and one just 5 months old.  My husband set up a blanket, umbrella, and sat with the babies while I hunted around with the big kids.
Our son had no trouble digging out his own Oregon thundereggs.
In this spot, thundereggs were plentiful and very easy to dig.  Even our 4-year-old son had no trouble nudging them out of the rock with the rock hammer.  Here's a very short video showing how easy it was to find them!  The rock is very soft and sedimentary; it really is rock, but crumbles like dust when tapped with a rock hammer.
A round, orange-sized "egg" peeking out of the rock.
A chunk of rock with a broken thunderegg embedded.
Our family (minus the two babies chilling in the air-conditioned van, just a step away) at the South Blue Beds at Richardson's Rock Ranch.
Richardson Ranch Store
We stayed for about an hour and half-filled a 5-gallon bucket.  We had plenty, so we packed up and headed back to the ranch
store,
which is amazing all in itself…it's a vast warehouse of rocks, both natural and polished.  Some are found right on the ranch, others are imported from other locations.  The ranch also has
cutting services
, so you can have your thundereggs sliced open for a nominal fee before you leave.  Cutting rocks does take time, so plan ahead and be back to the store well before closing time.  On very busy days, the wait can be even longer.  We visited on a weekday, and there was no line at all.
Look past our sun-drenched family and you can see their large rock yard…incredible rocks from all over!
Cost: $1.25 per pound (10 lbs minimum), plus cutting fee at $0.35 per inch.  It cost us less than $20 to cut open all of our rocks (about 1/2 a 5-gallon bucket)  More info here.
Amenities: water, snacks, popsicles, porta potty, lots of rocks and rock souvenirs.  Rock museum.
Our kids ages at the time of visit: 9, 4, 1, and 5 months